Allopathic PCD Pharma Franchise in India
Get the Best Allopathic PCD Pharma franchise from India's leading PCD franchisee company: Saphnix Medicure.
Saphnix Medicure is a WHO-GMP-certified pharmaceutical company established by industry leaders with vast experience in the pharmaceutical sector.
Our company's operations are integrated with the best quality-assured and enhanced technology that enables us to maintain our premium standards.
We specialize in delivering impeccable pharmaceutical solutions consisting of manufacturing, supply, distribution and marketing of top-quality pharmaceutical products. All of the provided solutions are highly cost-effective and timely analyzed for quality.
We have a cumulative experience of more than ten years and have gained traction among India's fastest-growing Allopathic PCD pharma franchisors companies. Our proficient team of highly qualified professionals dedicate their time and expertise to deliver the best services. 
Saphnix Medicure is India's top distributor of Allopathic Pharma formulations, including tablets, capsules, syrup, injections, cream, oil, gel, and others. We ensure the manufacturing process follows the standard protocol and the best Active Pharma Ingredients (API).
We are India's leading Allopathic PCD pharma franchise company!
WHO, GMP & ISO certified company Strictly following Goods Manufacturing Practices as per the industry standards.
400+ Products A diverse range of 400+ Pharma products, each thoroughly checked for quality.
5+ Successful Divisions Our pharmaceutical units are categorized into more than five divisions that handle operations in pan India.
500+ Experienced Employees We rely on the expertise of our employees, who've never missed out on a quality check or a deadline.  
Choose the best Allopathic PCD pharma franchisors in India!
Saphnix Medicure has a promising record to back up our claim as the leading Allopathic PCD pharma franchise company in India.
Our services have been highly acknowledged for the impeccable results they bring along. This is one of the main reasons why India's top medical professionals highly recommend us.
We respect our reputation and acknowledge it since a lot of hard work went into it. We've taken a vow to keep serving the people of the nation with an efficacious range of quality pharma products at an affordable price.
Benefits associated with Saphnix Medicure as your PCD pharma franchisor  
A broad range of pharmaceutical products.  
Cost-efficient products with 100% quality assurance.
WHO-GMP-certified high-quality products
Control manufacturing facilities with advanced machinery.
Highly qualified and experienced production team.
We work with an exclusive range of PCD pharma partners, including retailers and wholesalers.  
High-quality production, packaging and delivery service.
Efficient and timely product delivery.
Quality-checked products on multiple parameters. 
Allopathic PCD Pharma Franchise; Saphnix Medicure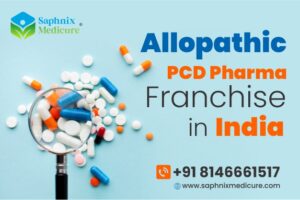 Saphnix Medicure is India's leading Allopathic PCD pharma franchisors company with over 400 pharma products range. We deal with a wide range of products categorized as tablets, capsules, creams, injections, drops, powders, gels, soft gels, syrups and many more.
Our products and services are marked with quality check seals from WHO, ISO and GMP. We have collaborated with India's topmost medical practitioners, who recommend our products based on personal experience.
Connect with Saphnix Medicure today for top-quality products!  
Get in touch with India's Top Allopathic PCD pharma franchise company!
Searches Related To Topic
PCD Pharma Franchise on a Monopoly Basis
Best PCD Pharma Franchise Company
Top Pharma Franchise Companies in India
PCD Pharma Franchise Business
Best Pharma Franchise Company
Monopoly Pharma Franchise