PCD Pharma Franchise on a Monopoly Basis
PCD Pharma Franchise Monopoly Basis has become one of the most prominent demands of franchise owners for running their business smoothly and efficiently. Essentially, a Pharmaceutical Franchise/PCD is a contract under which a pharma company grants a pharma professional or distributor, or a group of professionals or distributors, marketing and distribution rights to use their brand name, company name, and other commercial activities on behalf of the company on a monopoly basis. We offer you our franchise on a monopoly basis and give you a chance to earn like never before; in this blog, we will embark on our monopoly pharma franchise and its potential benefits.
Benefits of Monopoly pharma franchise
Getting a Pharma Franchise on a monopoly basis has many benefits for you, right from competition to ROI and sales or even reputation; you win in everything. So let us point out a few benefits of availing of Saphnix Medicure services: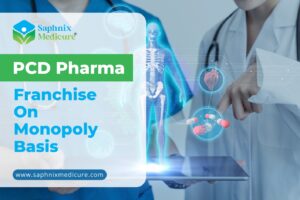 Reduced Risk, investment and stress:
There is little Risk associated with monopolistic PCD Pharma Franchise because you can begin them at a low cost and a low level of investment. In addition to this, having a monopoly in Pharma, you can always keep the Competitive Risk in the green column.
Tremendous ROI and sales:
Our products have high demand in the market and you being the only provider, can take benefit of this opportunity and bag considerable sums of profits!
Profit margins: When you avail of Saphnix Medicure's Monopoly Pharma Franchise, you avail high profits. We believe in building good relationships with our franchisees, ensuring that all of them enjoy working for us. Bigger margins motivate them to work harder, leading to higher productivity.
Smooth business establishment: When you are a solo franchise owner in the market, you need not to worry about the competition and share your rewards with anyone else; hence, establishing your brand is easy and smooth.
Saphnix Medicure's franchisees enjoy their work like none other and make big profits; not just that, many of them are able to maintain an adequate work-life balance. Owing to their dedication and brilliance, they have achieved heights. If you also expect that from your work, get associated with Saphnix Medicure.
How to get in touch?
Give us a call or email.
So what are you waiting for?
PCD Pharma Franchise monopoly basis is available!
Please make an Enquiry, and We will be the happiest to assist you!
Searches Related To Topic
Monopoly Pharma Franchise
Best Pharma Franchise Company
Gynae PCD Pharma Franchise
Allopathic PCD Pharma Franchise